This is a unit award scheme designed to get students thinking about the work environment and how to behave. The two main units we look at are 'Introduction to Sales' and 'Communication Skills'.
Introduction to Sales allows students to understand what customer service is and why it is so important. They are also able to practise selling things on the phone and in person during role play activities.
Communication Skills gets student thinking about what it would be like working in an office and how you communicate with each other. We look at body language, talking to people on the phone and working as part of a team.
A number of adjustments are made to our teaching to meet the needs of students with a vision impairment;
Structured work on developing research skills using resource banks of large print, Braille and electronic material.
Use of tactile diagrams e.g. graphs and tables
Textbooks in large print, Braille and electronic versions.
Support with tracking current events in the business world.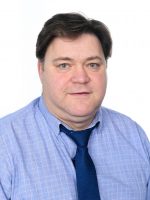 There are 6 units to complete for the full certificate but credits are gained for each unit completed.
There is no exam for this course – the students pass by meeting certain criteria while in the workplace. Students take the knowledge gained in the classroom and apply it in the workplace showing that they can deal with a variety of different customers via a number of mediums.
Over the duration of the course, students collate a portfolio of work undertaken in the classroom and also a diary and reflections of their time in the workplace.